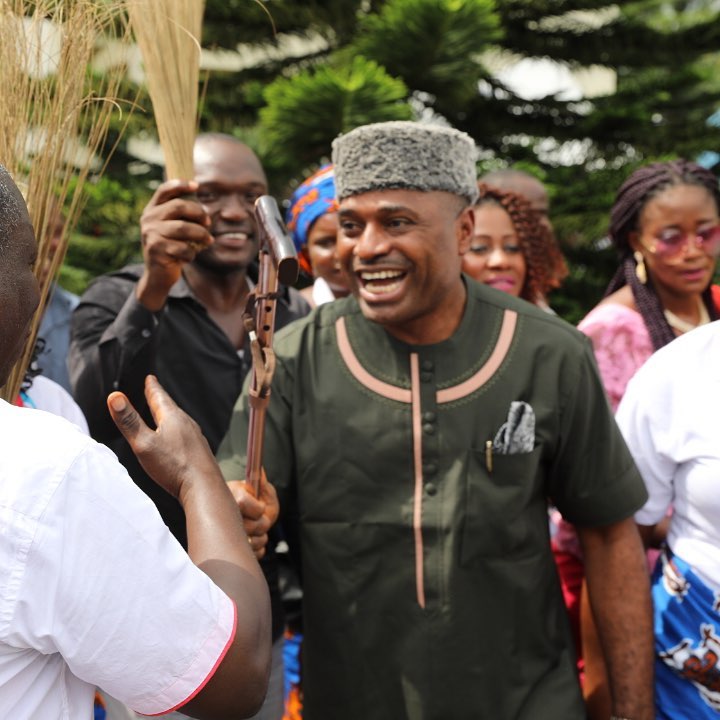 Nollywood actor Kenneth Okonkwo has responded to criticism that came after comments he made endorsing President Muhammadu Buhari for a second term.
Okonkwo, who recently announced his intention to run for the Enugu State governorship position under the All Progressives Congress, also berated the Peoples Democratic Party for doing nothing for the South-east region.
He was speaking to a group of Nigerians in Abuja on Monday.
Watch him speak below:
Here's a transcript of the video above:
I am following President Muhammadu Buhari and I make no apologies for that. I am an ambassador of good governance. It's not because of the person of Muhammadu Buhari, it's because he's committed to good governance. And as the ambassador of good governance, take it home, you can't get a better president than President Buhari.

We've had the history of power grabbers in Nigeria, aggressive power grabbers. If you don't give them power, they will leave you. They left APC for PDP because they wanted to grab power. If you don't give them they will grab it. They are very few, very vocal, they are very cohesive if you are not careful they will come and take their own and take your own. We are saying "No" to that.

If you want to come into power in Nigeria because you are giving us good governance not because you want to grab power. If the south-east should support anybody for the presidency, they are going to wander for the next eight years in the wilderness. It is agreed that it is their turn after president Muhammadu Buhari. You know our slogan? It is Ndigbo for Buhari 2019 and Buhari for Ndigbo for 2023.

Since 1999 with PDP in power, no Igbo man was president, no Igbo man was vice president, not even our infrastructure was built. If you're from the south east will I not check your mental stability if you don't want to change course. I am changing course.

I want you to understand that President Muhammadu Buhari has passionate love for the Igbos, when he came the first time to contest for the presidency, it was an Igbo man he chose to be his vice president. His name is Chuba Okadigbo.

When he came back the second time, it was an Igbo man he chose to be his vice president. His name is former Speaker of the House of Representatives. His name is Ume Eze-Oke.
His comments attracted backlash, and the actor has come out to call those against his decision "ignorant and satanically motivated". Writing in two Instagram posts, Okonkwo said:
My attention has been drawn to some negative comments and curses poured out against my person by some ignorant and satanically motivated persons because of my preference of President Muhammadu Buhari as President of this country for his incorruptible and firm character against enemies of Nigeria.

I have been laughing at their ignorance and wickedness.

First, these men have not offered any alternative party or Presidential aspirants to challenge Buhari or be compared with him.

Second, they claim they are Igbos but forgot that in Igboland, it is a cardinal principle and custom that you must respect someone's personal opinion and must not curse the person, if what the person simply did was to express his opinion and nothing more, "uche onye adighi ya njo".

Even if a person says anything you don't like, provided he did not curse you, you are permitted to throw away his words but restrained by custom and tradition not to do anything to him.

Third, the Nigerian constitution said in section 39 that "every person shall be entitled to freedom of expression, including freedom to hold opinions and to receive and impart ideas and information without interference".

Also in section 38, the constitution states "every person shall be entitled to freedom of thought, conscience… including freedom to change his … belief, and freedom (either alone or in community with others, and in public or in private) to manifest and propagate his belief in teaching, practice and observance".

God himself created man a free moral agent to hold his thoughts and express his opinions as he wishes. He did not even compel man to worship Him. So these army of ignorant and wicked men are simply trying to rudely and crudely interfere with my traditional, constitutional and religious rights to freely express myself and hold an opinion, belief and thought as I so wish.

Let me reiterate that I am a follower of President Buhari and believe in his integrity and good intentions to better the lots of Nigerians and that of Ndigbo and I have no apologies for this. Whoever disagrees with me should produce his own strong reasons and better alternatives.

Since these men did not do this, but resorted to curses and vituperations, they have violated the law of nature, man and God.

Here is the verdict of God on them according to Psalm 109 and particularly verses 1-3, 6, 17-21, 25-30.

For the avoidance of doubt let me reproduce these verses verbatim:

(1) Hold not thy peace, O God of my praise;

(2) for the mouth of the wicked and the mouth of the deceitful are opened against me: they have spoken against me with a lying tongue.

(3) they compassed me about also with words of hatred; and fought against me without a cause.

(6) Set thou a wicked man over him: and let Satan stand at his right hand.

(17) As he loved cursing, so let it come unto him: as he delighted not in blessing, so let it be far from him.

(18) As he clothed himself with cursing like as with his garment, so let it come into his bowels like water, and like oil into his bones.

(19) Let it be unto him as the garment which covereth him, and for a girdle wherewith he is girded continually.

(20) Let this be the reward of mine adversaries from the Lord, and of them that speak evil against my soul.

(21) But do thou for me, O God the Lord, for thy name's sake: because thy mercy is good, deliver thou me.

(25) I became also a reproach unto them: when they looked upon me they shaked their heads.

(26) Help me, O Lord my God: O save me according to thy mercy

(27) That they may know that this is thy hand; that thou, Lord, hast done it.

(28) Let them curse, but bless thou: when they arise, let them be ashamed; but let thy servant rejoice.

(29) Let mine adversaries be clothed with shame, and let them cover themselves with their own confusion, as with a mantle.

(30) I will greatly praise the Lord with my mouth; yea, I will praise him among the multitude.
Photo Credit: @realkennethokonkwo