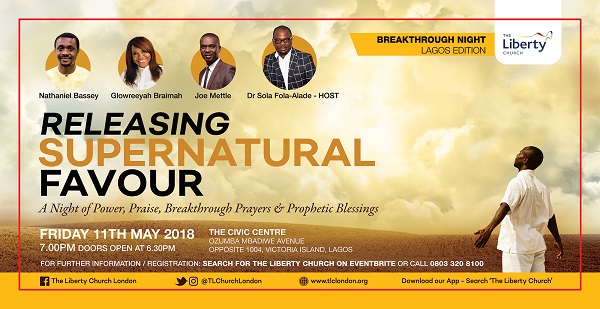 What is supernatural favour? In the Bible, favour is a principle we see in the lives of many characters, from Jesus Christ to Joseph, David, Disciples of Christ, to mention a few. It's when God reaches out to you and he chooses to kiss your life in a way that brings change
God loves you and wants to bless you always. There is favour from man but most times, there are conditions attached. With God, there are no strings attached and it falls on you whether you think you deserve it or not. Ephesians 2:8-9 says "For it is by grace you have been saved, through faith—and this is not from yourselves, it is the gift of God. Not by works so that no one can boast."
We can do nothing that will make us deserve favour from God, we have a good father who because of Jesus grants us favour. Come and find out more about supernatural favour at the 3rd Edition of Breakthrough Nite -Lagos Edition
What has made a mockery of your qualifications, skill, experience and connections? Don't miss a Night of Power, Praise, Breakthrough Prayers and Prophetic Blessings with The Liberty Church Breakthrough Night, Lagos Edition.
Date: Friday, May 11th, 2018
Time: 7.00 pm
Venue: Civic Centre, Ozumba Mbadiwe, Opposite 1004, Victoria Island, Lagos.
Theme: Releasing Supernatural Favour
Host: Dr. Sola Fola-Alade along side worship ministers Nathaniel Bassey, Joe Mettle & Glowreeyah Braimah.
Entry is free but spaces are limited.
For more information & registration please call +234 803 3208 100 or register via Eventbrite. Doors open at 6.30pm
Admission is FREE!!!
Follow the conversation on Facebook or visit www.tlclondon.org. You can also download the Liberty Church app for more information.
———————————————————————————————————————————————————————-
Sponsored Content